A Japanese heavy metal band named, "LOUDNESS"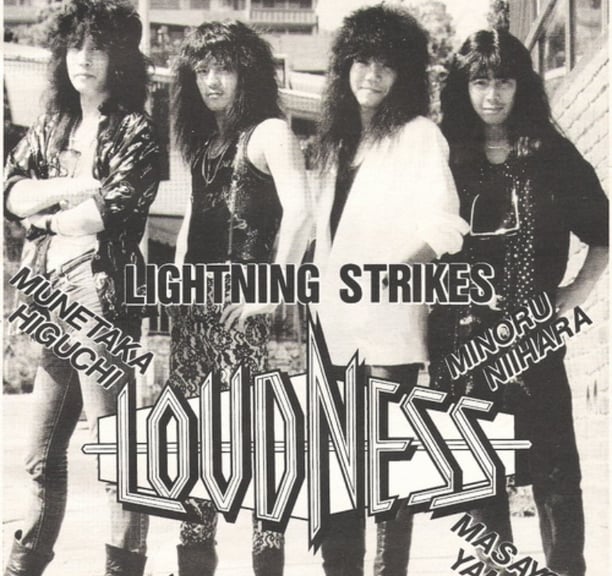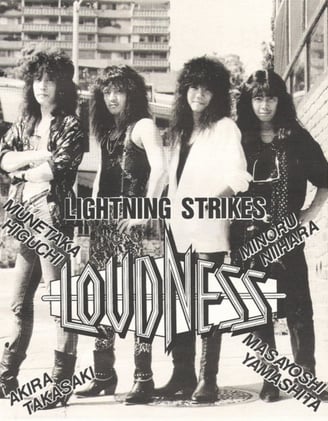 Formed in 1981 by Akira Takasaki and Munetaka, LOUDNESS was the first Japanese metal act to get a record deal in the United States with a major record company. Loudness could be defined by their work ethic, as they recorded an incredible number of albums, 26 studio albums, and nine live albums by 2014!
The band's work ethic helped them to reach the Billboard Top 100, and also chart on Oricon many times, even through changes in their roster, with Akira Takasaki as the sole constant member.
Akira Takasaki & Munetaka Higuchi, along with bassist Hiroyuki Tanaka, formed loudness after the breakup of their band Lazy, a name that hardly suited them anyway!
Motivated by the success of their debut album, "The Birthday Eve", The band quickly recorded four studio albums in the next four years. As well as a solo project by guitarist Akira Takasaki (to Kick Start his solo career) and a tour of the US and Europe to support their third album "The law of Devil's land" they moved to Europe to record their fourth album, as well as an English language version of the album, "Disillusion".
In 1985, Loudness was the first Japanese heavy metal band in music history to sign an international record deal. This was the beginning of the band being managed and produced into a more marketable sound in the US, becoming Americanized.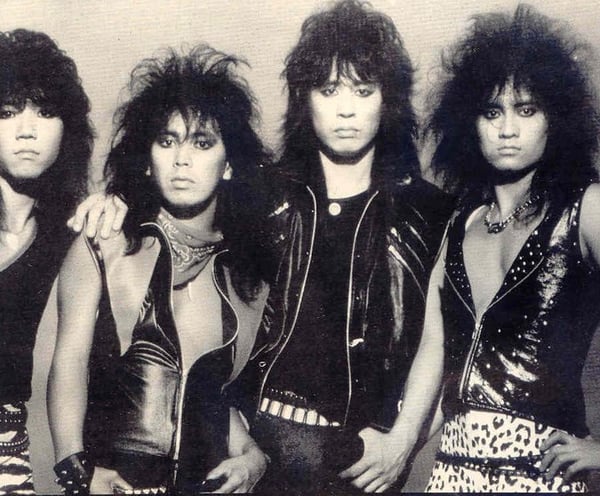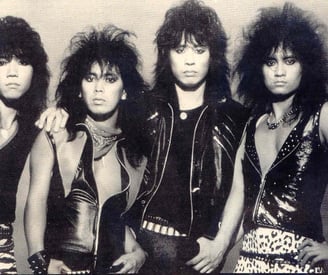 Releasing albums with English lyrics initially, and Japanese lyrics subsequently. The Americanization of the band continued through 1988. When their producer suggested that an English-speaking vocalist would help the band sell better on the American Charts. This advice was put in play and was a successful move to start, but it could have proved a career-ending fiasco when the English-speaking vocalist Mike Vescera, left the band Mid Tour less than three years later.Loudness recruited vocalist Masaki Yamada to finish the tour and returned to Japan.
Minoru Niihara – lead vocals (1981–1988)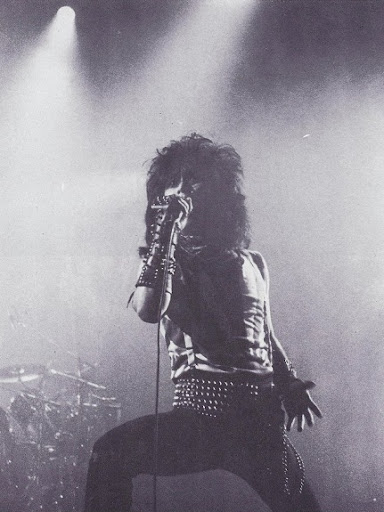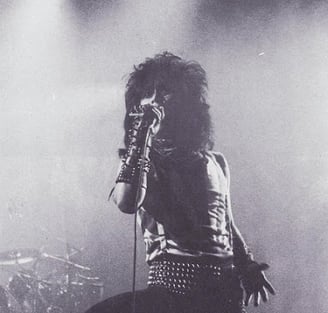 The sudden change in vocalists had little effect on Loudness' success in America, that success was headed towards a major detour, as the American market tastes turned to grunge and alternative rock in the beginning of the 90s.
Not long after. Their return to Japan the bassist left, and was replaced by the former bassist of X-Japan Taiji Sawada, before the release of their self-titled album "Loudness", this was their highest charting album in Japan. The 1992 album was followed by a live album in 1993. These albums, "Loudness" and " Once and for All", marked a change in the direction of the band, A new chapter, as well as a new band because Akira Takasaki was soon to become the only remaining original member!
If the name sounds familiar it's because Taiji worked in a number of bands including X Japan!
Taiji wrote several X compositions, including "Phantom of Guilt", "Desperate Angel" and "Voiceless Screaming". He played "Voiceless Screaming" on acoustic guitar during Jealousy tour from 1991 to 1992. In 2001, some of the unpublished songs were finally released in Rose & Blood -Indies of X-. Taiji left X in 1992.
In April 1992, he was invited to join Japanese metal band Loudness. He left them in November 1993, after recording only one studio album and one live album.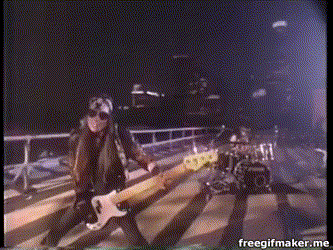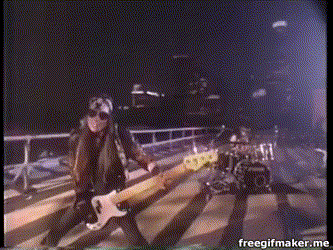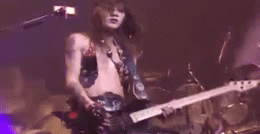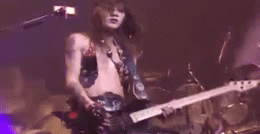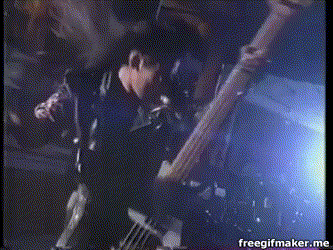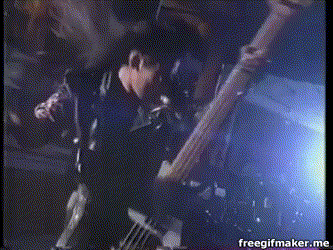 Akira and the "new" lead singer Masaki Yamada, persuaded the singer's former bandmate Hirotsugu Homma to join them, playing on the drums. This trio went on to record "Heavy Metal Hippies" in 1994 The sound of older Loudness is given a "grunge seasoning" on this album. as I listen to it right now. I'm reminded of Alice In Chain's slower stuff like "Sea of Sorrow", yet at times even slower! Other songs remind me of Anthrax! I'm completely enamored with this album!

Akira added Bassist Naoto Shibata to the band, and they went out on tour in support of the album. This incarnation of Loudness continued until 1999-2000, releasing another three albums from the studio and one live album while continuing a busy tour schedule throughout Asia, even going to Europe in 99.

A reunion, with the original line-up, was suggested to celebrate the band's 20th Anniversary when Masaki Yamada requested to quit Loudness, this suggestion was followed through by Akira, and the original members were invited back for a reunion, while the other two current members Homma and Shibata, were released from their duties with the band.
One thing that I can't speak to, as we continue through their history is, animosity, lawsuits, talking trash During subsequent magazine interviews, did any of that ever take place?
As I look through my resources on this blog, That seems to never be addressed as an issue, as if everything was done very amicably. Being a completely different culture, I can't say that for sure.


In 2001, the original members of the Loudness reunited and released the album "Spiritual Canoe" and followed the album up with a celebration tour. If this was intended to be a one-time event, as I've been told, I wonder what they were planning next.
As it turns out, it was so hugely popular for them to reunite, they chose to continue with this lineup, and LOUDNESS released an album and toured nearly every year since.
In 2006, original bassist Hiroyuki Tanaka, died of heart failure at 46. Just a couple of years later, death calls again when drummer Munetaka Higuchi is diagnosed with liver cancer. This unfortunately prevented him. From playing with the band in October '08, When they played with Mötley Crüe. Sadly, he passed soon after at the end of November 2008. At the age of 49.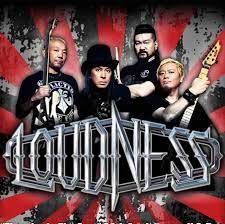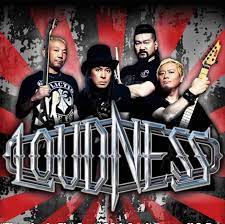 Even with the recent loss of drummer Munetaka Higuchi, LOUDNESS recorded a new studio album, "The Everlasting" in 2009.
Most likely with the strong sense of dedication to their fallen bandmate, the new album was based on drum tracks recorded by Higuchi before his death.
I like how heavy this album is. As I listened to the title track. I swear I'm listening to Tom Kiefer of Cinderella. I've just found another fast favorite!
In 2009, Loudness toured based solely on the music of their first four albums! They also announced their upcoming new album "King of Pain". In May, 2010. When the album was released, they introduced new drummer, Masayuki Suzuki. Takasaki. It was also stated that the next album would be, "much speedier and more aggressive" than "King of Pain"

LOUDNESS recorded "The Eternal Soldiers" in 2010 as the theme song for Mazinkaiser SKL, and it was released as a single later, also in 2010, Loudness was featured at the "Bang Your Head" festival in Germany and did a brief European tour in 2010. LOUDNESS came back to America for a 30th Anniversary tour in May and June 2011.
Loudness released "Eve to Dawn" on September 14, 2011, another album, "2012", followed on August 22, 2012.
Michael Vescera was scheduled to perform as the guest vocalist for Loudness on April 14, 2013, at the "Live N' Louder" Festival in São Paulo, Brazil, Due to a scheduling conflict with lead singer, Minoru Niihara's side project X.Y.Z. Unfortunately, this golden opportunity was missed. Vescera was unable to attend the event.
"Hibria" vocalist Iuri Sanson, performed as a guest vocalist in his absence.
The band released their 26th studio album titled The Sun Will Rise Again on June 4, 2014. Loudness played a song from the album called "Immortality" on the 2014 Monsters of Rock cruise, the video below.
LOUDNESS teamed up with Outrage to hold the first "Loud∞Out" Fest on May 2, 2015. The second installment was held on May 1, 2016, which also included Anthem and Lost Society in addition to the two namesake acts. The 2017 edition of the fest was a tour that saw two concerts on May 4 and 6 that included Galneryus!
In January 2018, the band debuted their 27th studio release, "Rise to Glory". Unfortunately the next month, drummer Masayuki Suzuki was hospitalized with a mild stroke. The band enlisted the services of Ra:IN drummer, Ryuichi Nishida, to fulfill the tour until Suzuki's full recovery and return, in September 2018! The fact that he can return to drumming is absolutely spectacular!
It is here that I must pause this story, about a full year before I discovered this band for myself! I have a plan to follow up in another blog with more about how I learned about them, and all the great bands who've paid tribute to them. through cover songs & video. Along with what they've been up to for the past three years! All I have right now are the videos below to go on. But they show no signs of slowing down. Part of what makes them such a legendary band!
LOUDNESS
"Soul On Fire"from the New album "Live in Tokyo"
Ghost Writer's Favorite Pick!
Loudness -
Lost Without Your Love
My heartfelt thanks to Wikipedia and it's content contributors, it's a vital resource in research and it enabled me to write this page!
Please go check them out and donate, Thank you.
The Birthday Eve (1981)
Devil Soldier (1982)
The Law of Devil's Land (1983)
Disillusion (1984)
Disillusion (1984) - English version
Thunder in the East (1985) No. 74 (US)
Shadows of War (1986)
Lightning Strikes (1986) - U.S. Remix of Shadows of War No. 64 (US)
Hurricane Eyes (1987) No. 190 (US)
Hurricane Eyes (1987) - Japanese Version
Soldier of Fortune (1989) No. 18 (JPN)
On the Prowl (1991) No. 7 (JPN)
Loudness (1992) No. 2 (JPN)
Heavy Metal Hippies (1994) No. 29 (JPN)
Ghetto Machine (1997) No. 65 (JPN)
Dragon (1998) No. 49 (JPN)
Engine (1999) No. 48 (JPN)
Spiritual Canoe (2001) No. 20 (JPN)
Pandemonium (2001) No. 27 (JPN)
Biosphere (2002) No. 45 (JPN)
Terror (2004) No. 88 (JPN)
Racing (2004) No. 60 (JPN)
Breaking the Taboo (2006) No. 129 (JPN)
Metal Mad (2008) No. 51 (JPN)
The Everlasting (2009) No. 42 (JPN)
King of Pain (2010) No. 21 (JPN)
Eve to Dawn (2011) No. 36 (JPN)
2012 (2012) No. 33 (JPN)
The Sun Will Rise Again (2014) No. 29 (JPN)
Rise to Glory (2018) No. 13 (JPN)

LOUDNESS
Official YouTube Channel
-Members-
Akira Takasaki – guitars, backing vocals (1981–present), lead vocals (1981), bass (1993-1994)
Masayoshi Yamashita – bass, backing vocals (1981–1991, 2000–present)
Minoru Niihara – lead vocals (1981–1988, 2000–present)
Masayuki Suzuki – drums (2009–present)
-Former members-
Hiroyuki Tanaka - bass (1981; died 2006)
Mike Vescera – lead vocals (1989–1991)
Masaki Yamada – lead vocals (1991–2000)
Taiji Sawada – bass, backing vocals (1992–1993; died 2011)
Hirotsugu Homma – drums (1994–2000)
Naoto Shibata – bass, backing vocals (1994–2000)
Munetaka Higuchi – drums (1981–1993, 2000–2008; died 2008)
-Touring Member-
Ryuichi Nishida - drums (2018)

Loudness-topic YouTube channel