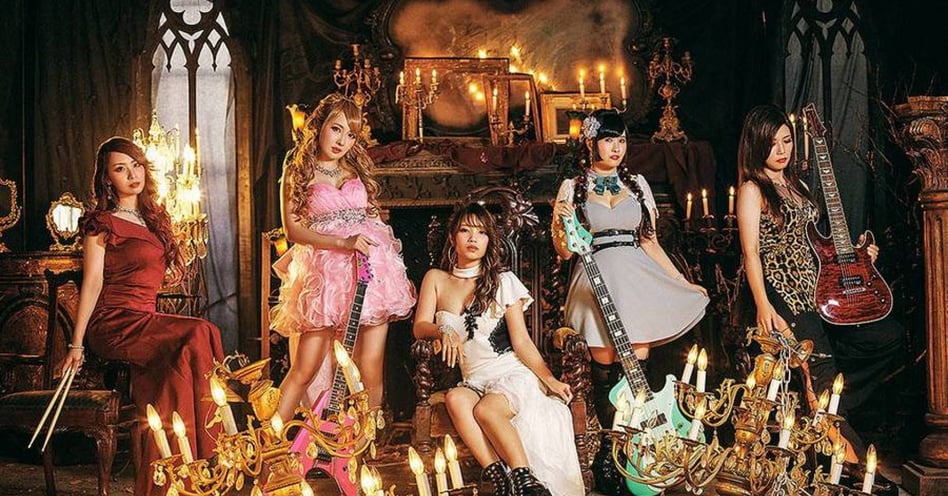 Photo featuring Rin/Gemie, as the new lead singer with ALDIOUS for the Evoke album. This album was a rerecording of their songs with the new vocalist in 8D.
To be fair, my first introduction to Japanese music had happened years before. I had been shown Malice Mizer, Gakt, and BabyMetal; but I just wasn't that interested at the time. That might be because these introductions were made at inopportune times. In any case, it seems fate had Japanese music written in my future anyway. My first personal discovery of J-Metal was the (mv)"Dominator"! Soon I watched every video Aldious had made. Their videos & music are quite diverse, compared to what I was used to. It was so very disappointing to find out Re:no had just left the band. Still, I was very excited to see the new music, with Rin/Gemie. I was shocked at her early departure, as I'm sure most everyone was. I found AcoMetal back in 2018 as well, so I was very excited to hear that Maki Oyama is Aldious' guest vocalist for the 2021 tour !

Current Members:
Yoshi - Guitarist (2009–Present)
Toki (トキ) - Guitarist (2009–Present)
Sawa (サワ) - Bassist (2010–Present)
Marina - Drummer (2015–Present)
Former Members:
RAMI - Vocalist (2009-2012)
Aruto - Drummer (2010-2014)
Re:NO - Vocalist (2012-2018)


Official Website:
Official Facebook:
Official Twitter:
Official Youtube:
Wikipedia:
Spotify:
Twitter - R!n:
Twitter - Marina:
Twitter - Sawa:
Twitter - Yoshi:
Twitter - Toki:
You can find this song and many more at ReverbNation!
This is a great, hard driving powermetal song! It reminds me of Judas Priest & Iron Maiden. Rami's voice adds the perfect sweet touch to a great song!
Subscribe to be updated about latest news and blog posts and to follow what is happening in the world of Japanese music.