Cyntia
KAWAII METALJAPANESE POWER METAL.
Cyntia started as a 4- girl J-Metal band that formed in Tokyo in the fall of 2011, initially created by
YUI and KANOKO, who co-starred in a music video of LIV MOON.
In the same year, AIRI and AYANO joined and started producing music centered on YUI and AYANO. Finally, after more than a year of auditions in November, SAKI joined, and CYNTIA became a five-member group.
Their debut single, "Run to the Future," was released in April 2012 and won 28th place in the Oricon daily single ranking. After that, AIRI withdrew due to poor physical condition. AZU ( LAZYgunsBRISKY) was chosen as the support bassist.
Unfortunately, Airi officially left the group in June, but the band released their first album, Endless World, in September. Azu became a full member in November.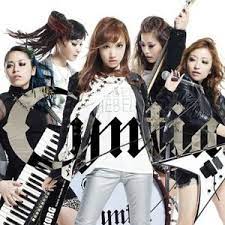 In January 2013, Cyntia played as a backing band at KARA's Tokyo Dome performance. In March of the same year, the album " Lady Made " was distributed on iTunes in 119 countries, making a significant global debut. In addition, Mari Hamada's hit song " Return to Myself " was covered and released as the first major single in July.
Cyntia was believed to have been the first act from the Girls Metal Band Boom to have signed to a major record label when they joined Victor Entertainment in 2013.
Cyntia was voted 2013's best new artist by readers of heavy metal magazine Burrn!.
Although I cannot find any YouTube video from that year, Cyntia performed at that year's Naon no Yaon female-only rock festival. Later that year, they opened for American metal band Kamelot on their Japanese tour.
After this, Cyntia found much success with soundtrack or theme music. Their song "Senko Strings" was used as the fourth ending theme song to Saint Seiya Omega and released as a single in January 2014. Following that, their song "Kiss Kiss Kiss" was used as the theme song of the 2014 Itazura na Kiss 2 ~Love in Okinawa television drama special,
Once again, I would like to express my deepest gratitude. For Wikipedia. This is such an amazing resource. Please go join, contribute, and donate today!
Theme song of TV Asahi anime "Saint Seiya Ω"
Members
Former members
Airi – bass (2011–2012)

Kanoko – drums, percussion, backing vocals (2011–2015)
"Kiss Kiss Kiss" was released as a single in January 2015. a month later, "Akatsuki no Hana" was used as the second opening theme of the Yona of the Dawn anime adaptation. Then in February, The album "Woman" was released with more of a soft, pop-rock sound.
In April 2015, KANOKO, the leader and drummer, withdrew, for what reason I do not know.
Cynthia has Since transitioned to a four-person band, Members: Yui; Ayano; Saki; Azu. In
The label was transferred from Victor Entertainment to Village Again Association, in October 2016, this is the label Aldious and Rami belonged to.
Cyntia released their album "Urban Night" in December 2016 via the VAA (Village Again Association) record label. The song "Bless of the Fire" features Aldious guitarist Toki!
On December 26, 2017, Cyntia announced that they were suspending all activities indefinitely due to Yui's focal dystonia (involuntary spasms from overuse or repetitive stress and tends to affect musicians and golfers). Although the guitarist planned to leave the band so someone new could take her place, the other members decided not to continue without her. So an event on January 13, 2018, was their last. Cyntia began an indefinite hiatus after January 2018. On October 26, 2018, YUI's resumption of activities for focal dystonia was announced on the official website.
KARA Happy New Year in Tokyo Dome 2013