My First Japanese Ramen
Once you get into Japanese music you get a taste for the culture too. In this case, I literally got a taste!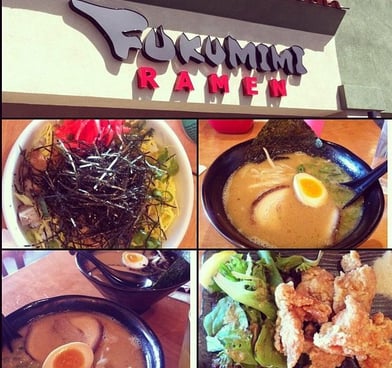 I was wrapping up what was to be the last day on my trip to Las Vegas to start the website when I asked my web builder where they would like to go for lunch. They asked me if I had ever had actual Japanese ramen before. That's when they simply insisted that I had to try Fukumimi Ramen.

Fukumimi Ramen is essentially a little hole in the wall. It's one of those local "must try" hidden secrets. My Webmaster explained that whenever they had new people come in from out of town to visit this is one of the places they take their guests.

Being a vegetarian I was glad to see that they offered a few vegetarian options, and I went with the Tonkatsu Ramen Miso add spicy paste and edamame, and my counterpart ordered the Fukumimi ramen and Gyoza. It was really good! It was not what I expected exactly but then I wasn't sure what to expect. The bowls are almost intimidatingly large, and at first you won't think you can eat it all.

I'm going to make it a point to go back to Fukumimi Ramen. It's so different from store-bought ramen. It's a completely different thing. I'll definitely be looking in my area for a Japanese ramen place.
'

Fun Facts:
Fukumimi means "large ear lobes" in Japanese, and large ear lobes are a sign of fortune in Japan.

Before this adventure I had never had edamame and I had to be shown how to eat it.